Mr Kai–Shek Luey, Chairman of the Auckland Chinese Community Centre,
Hon Minister Carmel Sepuloni,
Hon Mr Christopher Luxon, Leader of the New Zealand National Party,
Members of Parliament,
Distinguished guests,
Ladies and gentlemen,
It is a great pleasure to join you here on Chinese New Year's Eve.To begin with, I would like to acknowledge the Auckland Chinese Community Centre for their organization of the event and the kind invitation to me and my colleagues. I am also delighted to learn that the Chinese New Year Festival and Market Day has beenone of the brightest highlights in the multicultural landscape in New Zealand for decades. Please allow me to take this opportunity to extend my best wishes of the Year of Rabbit to all of you, and through you, to the Chinese community and all friends in New Zealand.大家过年好!
Looking back on the Year of the Tiger, we have experienced many memorable moments, either individually or collectively. The two countriesjointly celebrated the 50thanniversary of the establishment of diplomatic relations. President Xi Jinping and Prime Minister Ardern met in Bangkok and reached important consensus on promoting the further development of the Comprehensive Strategic Partnership between China and New Zealand.
Under the stewardship of our leaders and with the broad based support and participation on both sides, including from major political parties here in NZ, the two countries have overcome Covid and other difficulties, maintained dialogues and consultations at different levels, advanced practical cooperation and promotedpeople-to-people exchanges.
We should be proud that the China-New Zealand relationship has maintained a positive momentum of development on the right track, continuing to bring tangible benefits to both countries, particularly to both peoples, and also contributing to international and regional peace, stability anddevelopment. More importantly, with joint efforts by both sides, the China-New Zealand relationship has embarked on a new journey, ushering in the next 50 years of progress and mutual benefit.
We can draw many inspirations from the first 50 years of our relationship, the most important of which is that, at the end of the day, our relationship is of the people, by the people and for the people. Just as a well-known Maori proverb wisely puts it, what is the most important thing in the world? It is people, people, and people (He aha te mea nui o te ao? He tangata, he tangata, he tangata).
Our two peoples have a time-honored relationship. As a matter of fact, the engagement between our two peoples dates back far earlier thanour diplomatic relations. As  pioneers and pathfindersin our evolving relationship, their support and participation has played a foundational role in driving the progressive development of our bilateral relations over the years. Be it the Chinese community, accounting for 5% of New Zealand's population, or kiwi friends such as the well-known Rewi Alley and KathleenHall who have made remarkable contributions to China's revolution and development, or the significant numbers of Chinese tourists and students, they all serve as bridges and bonds that bring the two countries ever closer by enhancing mutual understanding and friendship between our two peoples, and are valuable assets for both countries.
With the ease of the pandemic and the full reopening of borders of both countries, I am confident that both our economies and people-to-people exchanges between the two countries willbounce back, which will inject new vitality into our bilateral relations.
Ladies and Gentlemen,
We shall soon be ringing in the Year of the Rabbit. In Chinese folklore, as in many other cultures,the rabbit is a symbol of kindness, cleverness, agility and good luck. They are environmentally friendly, as they eat mostly green grass, and they can really run. I believe that in such an auspicious year, as long as we choose not to fall asleep as in that famous proverbial race, we can and we will make greater and faster progress in promoting economic and social development for both China and New Zealand, and the relationship between the two countries will continue to strive to be the first, as rabbits tend to do,so as to better serve the well-being of both peoples.
To conclude, once again, I wish all of you a happy, healthy and vibrant new year! May China and New Zealand enjoy peace and prosperity! May our bilateral relationship continue to grow and flourish in the Year of the Rabbit and beyond!
祝大家新春快乐,幸福安康,皆得所愿。
Thank you.
Hon Minister Carmel Sepuloni delivers the remarks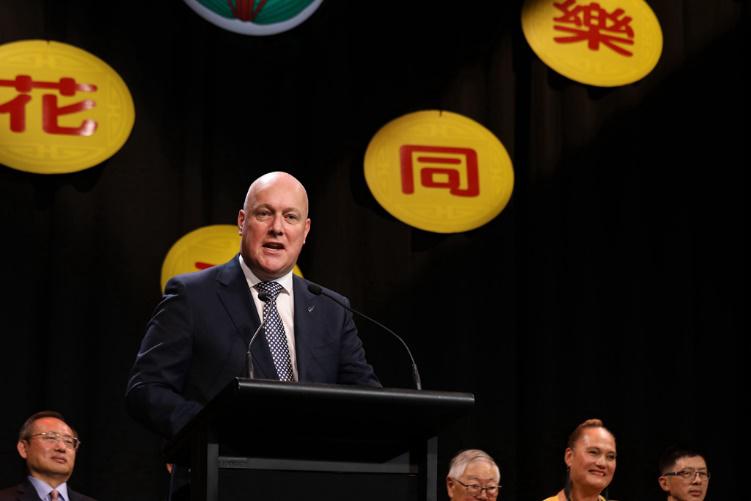 Hon Christopher Luxon delivers the remarks
Mr Kai Luey, Chairman of Auckland Chinese Community Centre, delivers the remarks
Video Message from Ms Desley Simpson, Deputy Mayor of Auckland
Amb Wang and Hon Minister Sepuloni jointly watch the Chinese traditional performance
Amb Wang dots the eyes of the Dancing Lion