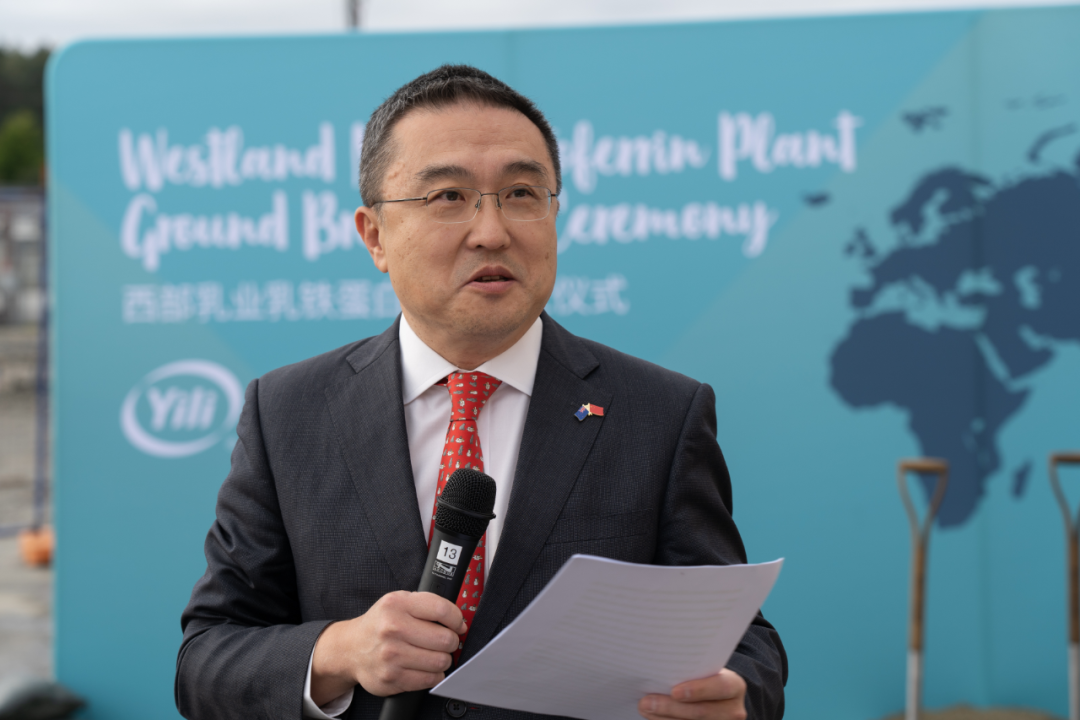 Honorable Minister Damien O 'Connor, 
Director General Ray Smith,
Distinguished guests and Friends,
Ladies and Gentlemen,
It gives me pleasure to attend the ceremony of the Westland Lactoferrin Ground-breaking today. I would like to extend warm congratulations to Yili Group and Westland Milk Products. My sincere thanks also go to Ministry of Primary Industry and other relevant departments, West Coast Regional Council and other local Councils for your strong support to Chinese enterprises in New Zealand.
Westland Milk Products in Hokitika has become a landmark project of China-New Zealand dairy investment cooperation. As the largest dairy company in China and Asia at that, Yili Group, through Oceania Dairy and Westland Milk Products, has invested up to about 1.5 billion NZdollars in New Zealand since 2013. Today's event represents an additional 70 million NZD in investment,which will translate into an extra 67 tonnes of capacity. Yili's continuing investment reflects its growing confidence in New Zealand's dairy industry. These investments will not only create more job opportunities in Hokitika and the broader West Coast Region, but also further strengthen Westland's position in the global lactoferrin supply chain. We look forward to more such projects to underpin continuous development of bilateral investment cooperation, and make investment another pillar for the mutually-beneficial practical cooperation between the two countries on top of trade.

In recent years, under the stewardship of our leaders and with the continuous efforts of the businesses on both sides, bilateral economic and trade practical cooperation has been elevated to a new level. In 2022, bilateral trade in goods exceeded 40 billion NZD for the first time. This achievement is inseparable from the well-received national branding of New Zealand primary products in Chinese market. Despite impacts of COVID-19, global inflation and other adverse factors, China remains the largest export destination for New Zealand's primary products. In the first quarter of this year, New Zealand's exports of dairy products, meat, wood products to China accounted for about 30%, 40% and 62% respectively of the respective industry's global export. These are vivid examples how Chinese market has brought tangible benefits to New Zealand companies.

Recently, New Zealand business communities and media have been paying close attention to China's economy. I would like to share some of my views here. In 2022, the 20th CPC National Congress was held, making blueprint for advancing the rejuvenation of the Chinese nation on all fronts through a Chinese path to modernization. We are ready to create new opportunities for New Zealand and other countries in the world with the modernization of the country. This year, faced with the profound changes and notably rising challenges and uncertainty in  the international environment, Chinese government actively implemented policies and measures to stabilize growth, and ensured a good start for the economy. In the first quarter, China's GDP grew by 4.5 percent year on year, domestic consumption up by 5.8 percent, investment in manufacturing by 7 percent, and the total value of exports grew 8.4 percent despite weak external demand. United Nation's latest forecast predicts  China's economy will grow by 5.3% in 2023. This promising growth will surely further promote China-New Zealand economic and trade cooperation and bring more new opportunities to New Zealand businesses.

Finally, I wish the ground-breaking ceremony a complete success! May the project commence and proceed smoothly. May  we see constant new progress in China-New Zealand economic and trade relations and more benefits to the two peoples. 

Thank you!